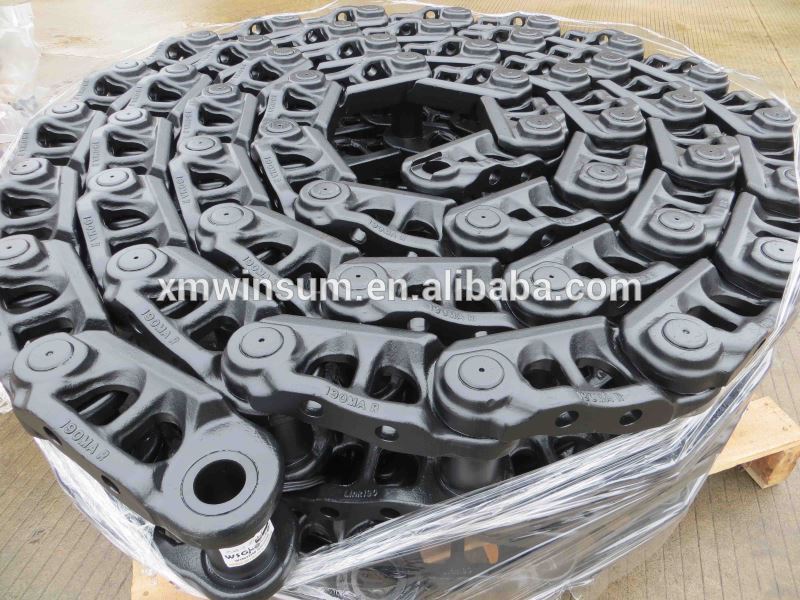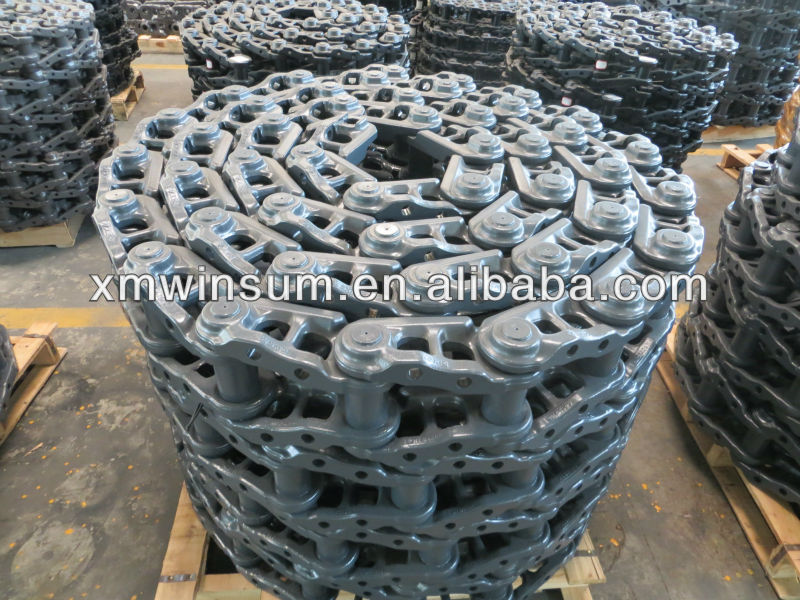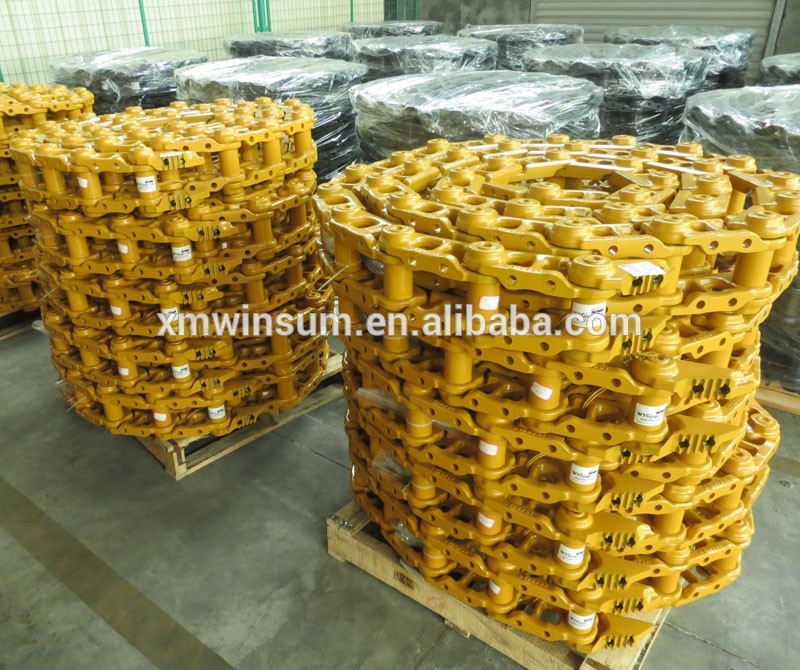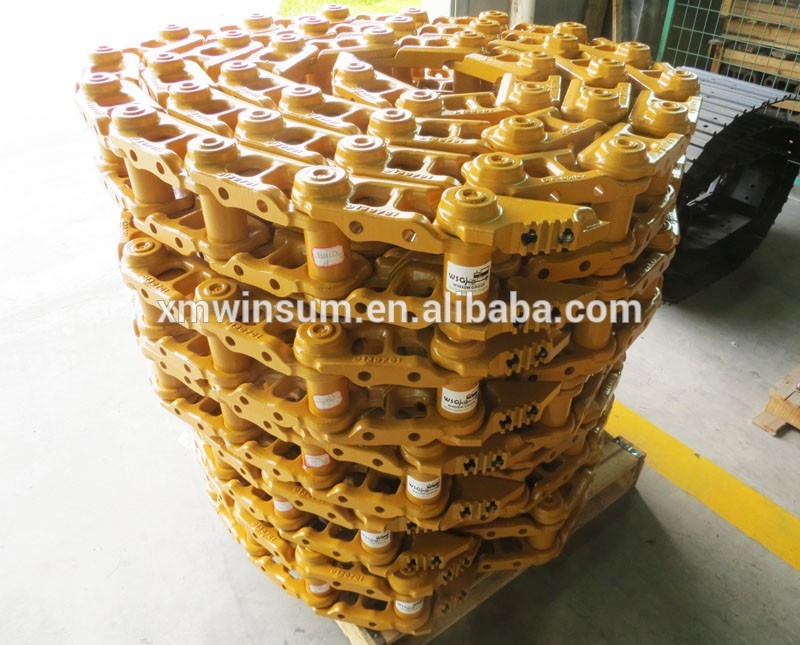 1.Product Information
JCB JS160 JS180 JS330 Excavator Track Link Chain Assy
1.Directly from own factory.
2.Fast delivery time.
3.Warranty: 2000hours.
4.Hardening depth.
| | |
| --- | --- |
| Material | 40Mn2 or 35MnBH |
| Quality | Heat-treated,HRC50-56 |
| Color | Yellow or Black |
| Technique | Forging/Casting |
| Finishing | Smooth |
| Certification | ISO9001:2000/GB/T24001-2004/OHSAS 18001:1999 |
| MOQ | 2 pieces |
There are more of undercarriage parts for your reference:
The models below are just for reference,many models we can't list here,we can supply the most models in the market. Kindly send us your inquiry or email if you have any requirements.
Fit for BRAND

WSG CATALOGUE

Komatsu

PC30

PC40

PC45

PC60

PC75

PC100

PC120

PC150

PC200

PC220

PC300

PC350

PC400

Caterpiller

E70B

E110

E120B

E215

E235

E307

E311

E312

E322

E180

E240

E200B

E320

E300

E300B

E330

E325

DAEWOO

DH55

DH200

DH220

DH280

HITACHI

EX30

EX40

EX60

EX100

EX120

EX200

EX220

EX270

EX300

EX400

EX600

UH043

UH052

UH053

UH07

UH081

UH082

UH083

FIAT

FH120

FH130

FH150

FH200

FH220

FH270

FH300

HYUNDAI

R55

R60

R70

R80

R110

R130

R150

R200

KATO

HD140

HD250

HD400

HD450

HD550

HD700

HD820

HD850

HD880

HD900

HD1220

HD1250

KOBELCO

SK40

SK60

SK100

SK120

SK200

SK220

SK04-2

SK07

SK07N2

SK09

SK12

SK14

SK300

SK310

SK400

For

MS110

MS120

MS180

MS230

MS280

For

MX8

SE200

SE210

SE280

MX292

SUMITOMO

SH70

SH100

SH120

SH160

SH200

SH260

SH265

SH280

SH300

SH340

LS2650

LS2800

LS3400

LS4300

BULLDOZER

D20

D3C

D30

D31

D37

D40

D41

D45

D50

D53

D57

D58

D60

D63

D65

D68

D75

D80

D85

D95

D135

D150

D155

D3

D3L

D3D

D4

D4C

D4D

D4H

D5

D6

D6C

D6D

D6H

D7

D7G

D8K

D8N

WSG track chain link assembly are specifically designed, engineered and manufactured, use high quality raw material, all made by OEM quality and reliable. It can be customized.
WSG can supply both standard track link assembly and sealed and lubricated track chain(SALT) for excavators and bulldozers, track link pitch from 101mm to 260mm.
Track links are forged, quenched and tempered.
Rail deep hardened, with average surface hardness HRC 53.
Track bushings treated in a special furnace for high temperature carburizing.
Deep hardened pins for best resistance to wear and fatigue.
Track shoes heat treated for proper thoughness and wear resistance.

Sell Sprocket,Track Link Assy,Track Shoe,Front Idler,Track Roller/Bottom Roller,Carrier Roller/Top Roller,Bucket,Tooth,Pin etc)
Komatsu,Caterpillar,Hitachi,Sumitomo,Kobelco,Volvo,Daewoo/Doosan,Hyundai,Kato,Mitsubishi,Samsung
Raw material:
Our carbon steel and stainless steel are supplied by the big companies all over China,
such as Shanghai BaoSteel,Hangzhou Iron&steel. etc.

Our quality all reach OEM standard, to you in the hand of the products must pass the
following process:EQC---IPQC---FQA--OQC

2.Production Equipment:
1.Forging: More than 10 giant processing machines include forging machine which has 1600tons capacity and cold heading machine which has 350 tons capacity.
2.Machining: nearly one hundred machines including advance NC turning lather, NC milling machine, and other professional machines.
3.Heat Treatment: apply advanced non-through controlled atmosphere high temperature mesh belt furnace,
high frequency quenching producing line, and auto-control cementation furnace.
4.Quality Commitment: we have a team of experts that supervises the quality of products on all levels, i.e. from the procurement of raw materials to the final stage of production. Thus, we offer a quality range of products with 100% guarantee.
3.Track link parts description



Crack resistance :The bush is done the carbonizaton and the surface medium frequency quenchingtreatment, which ensures the reasonable hardness of core and abrasionresistance of internal and external surfaces.
Abrasion resistance:The pin if done the tempering and the surface medium-frequency quenching treatment, which ensures the sufficient hardness of core and abrasion resistance of external surfaces.
Deep sensing hardened tread: The track link has been done, the mediumfrequency hardening treatment, which ensures its highest strength and abrasion resistance.

4.Warehouse product pics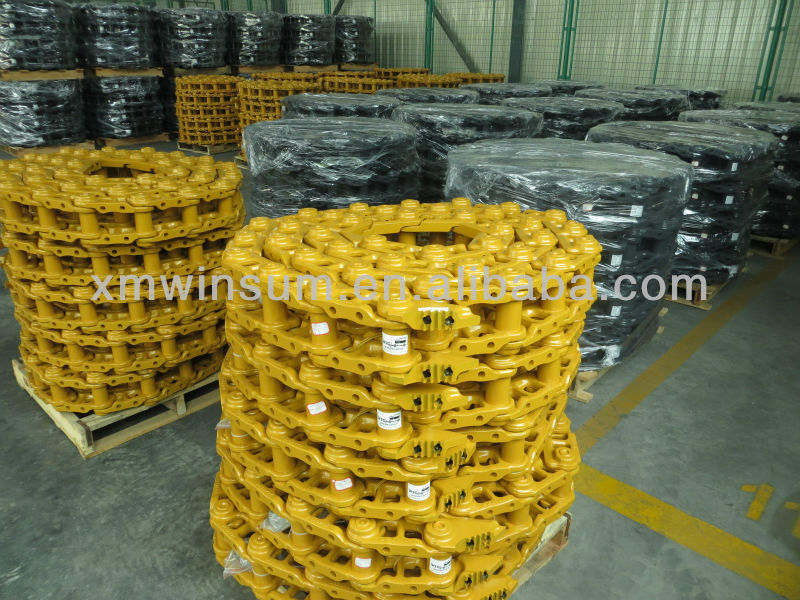 5.Certification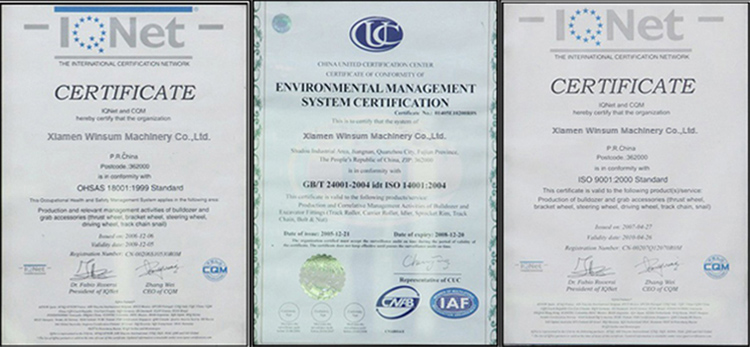 About us:
Here is Xiamen Winsum (WSG) Machinery Ltd.
Our factory is producing Track Roller, Carrier Roller, Sprocket, Idler, Track Link, Track Bolt & Nut ,Track Shoe, Turbocharger, Recoil Spring, Blade, End bit, Cutting Edge, Bucket, Bucket Teeth, Pin, Bush, Slewing Bearing, Plow Bolt, Breaker, Engine Parts, etc. We are not only engaged in quality control but also quality improvement. Manufacturing according to the ISO9001:2000 quality control system guidelines.

Our factory has various kinds of advanced equipment, available for induction heat treatment, stress relieving, fine grinding shin and several precision milling process.We have 2000 tons -6300 tons of press forging in forging production equipment, from advanced Italy forging and casting process, with the requirements of precision machine processing technology.Our factory has also established advanced laboratory equipment and assemblies in various parts of the machining, heat treatment, and travel system laboratory instruments, WSG Four Wheels and other components, warehousing, distribution operations and service in the global construction machinery manufacturers. The high quality, retail market assurance, we are the global leading OEM manufacturers'selection!
Note: Our products exported to USA, Canada, Britain, Germany and south American Market with high quality.
We also can design by clients drawing or special requirements.