1. Product description

Name:OEM 53103205 332 C4388 Bucket Teeth Bucket Excavator Tooth For JCB
Techniques:100% Hot-die Forging Bucket Teeth
Color: Yellow, Gree or Specify Colors
Hardness:48-52 HRC
Packing:Standard wooden case or custom make as per required.
How to purchase: Just send us your inquiry list from online service or by mail or SKYPE, we will quote best price to you immediately.

2. More photo of Bucket Teeth: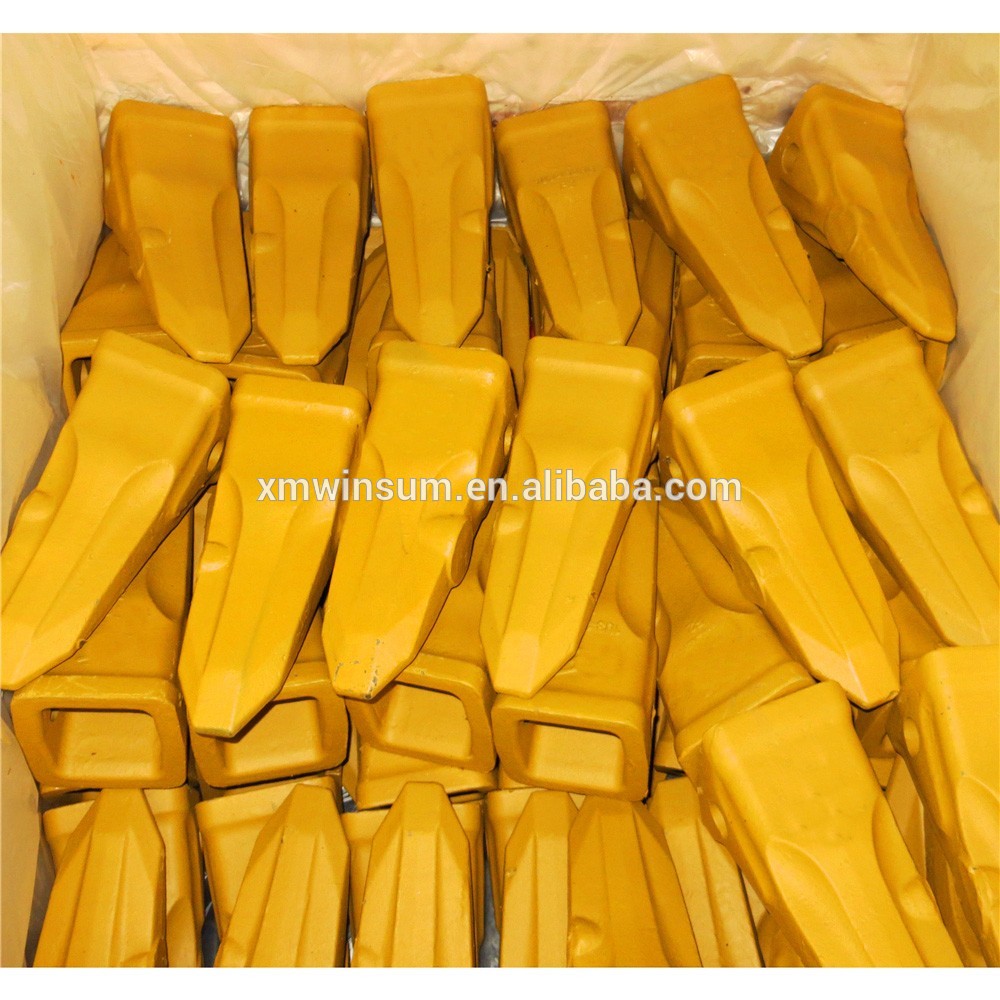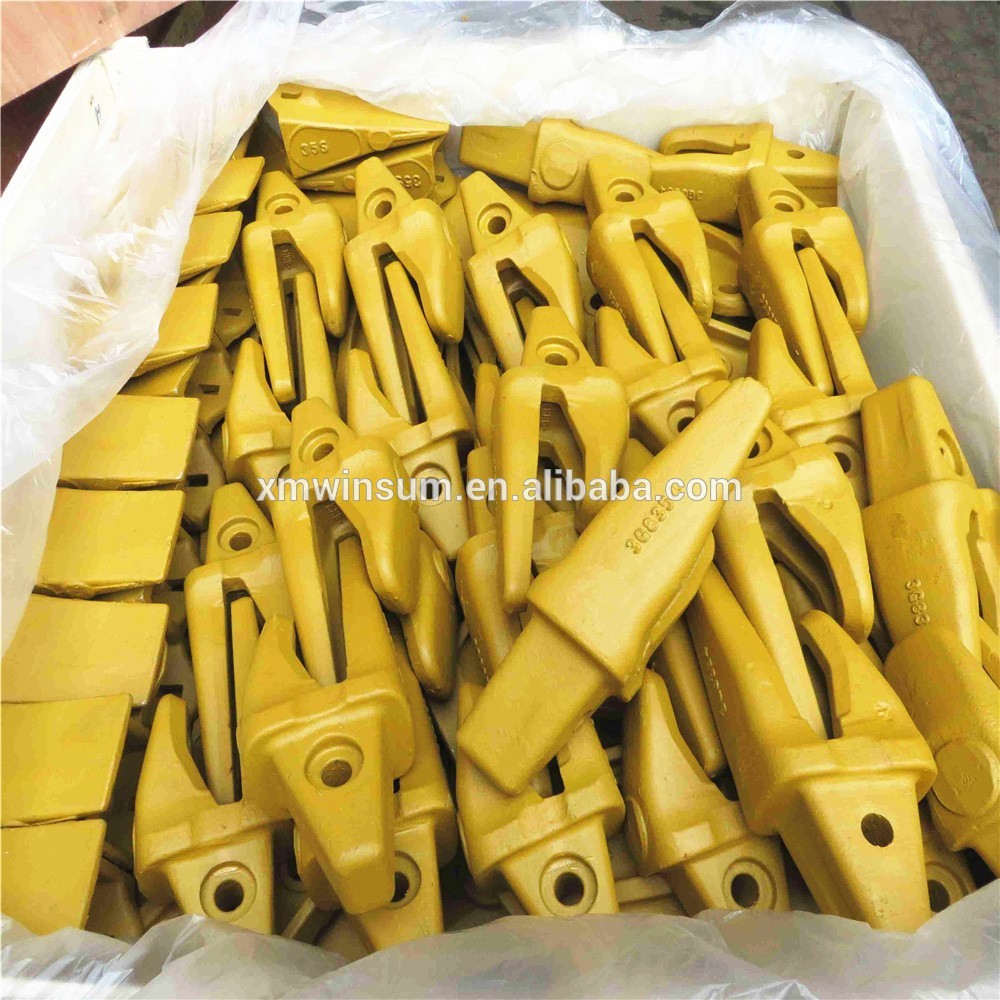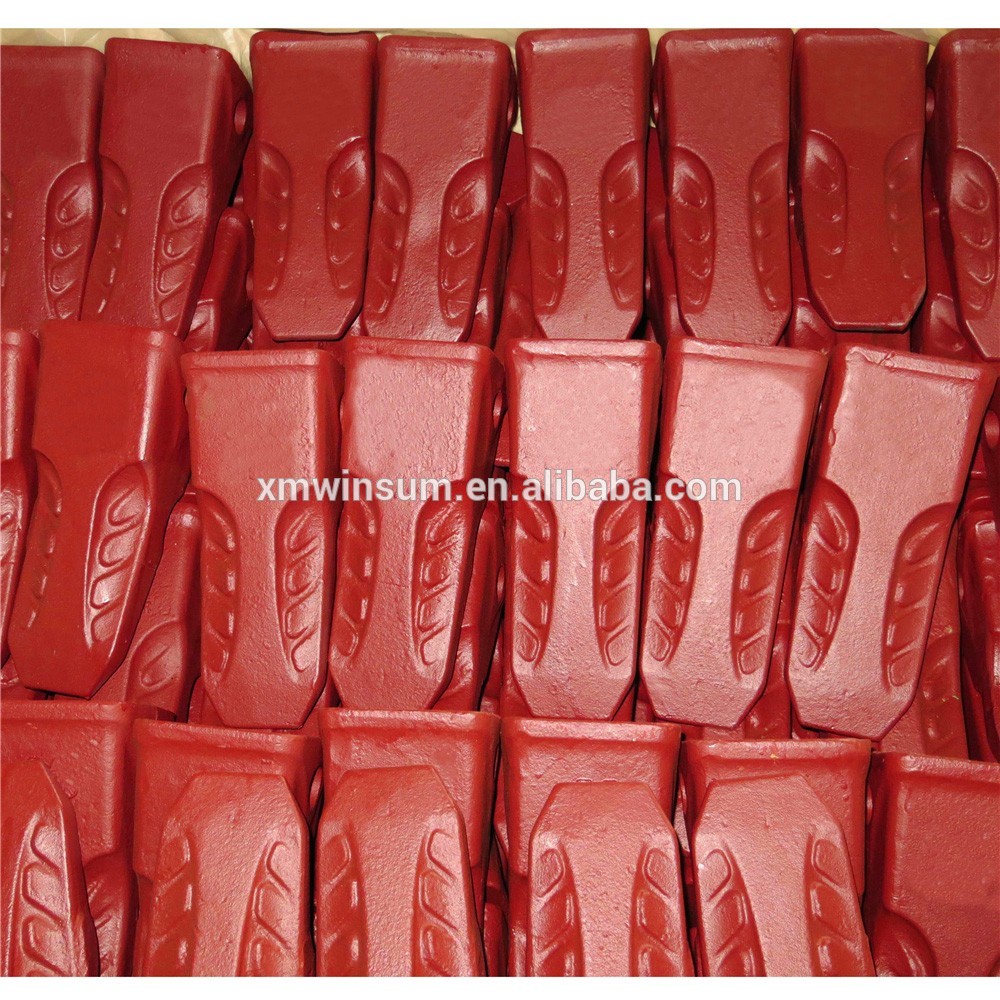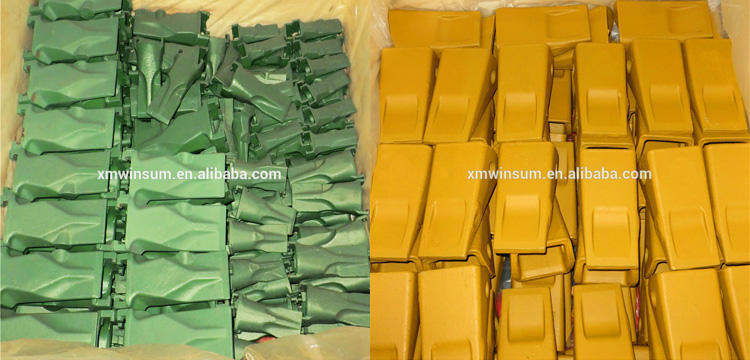 3. WSG Advantages:

XIAMEN WINSUM (WSG) MACHINERY CO., LTD
is one of the leading and professional suppliers of Our products are high quality at good prices, certified by ISO9001:2000, specifically designed, engineered and manufactured under consistent quality control. We also make according to OEM requirements. Especially, we can produce new products according to your samples, designs or technical drawings.We have exported all over the country such as South America, Europe, the Middle East, Africa and so on. Our products are recognized and accepted for high quality, we are enhancing the market share.

Advantages:
1. Quality guarantee and control
2. Technical support
3. Producing according to drawing
4. Gather different parts into one container
5. LCL is acceptable
6. Utilize TNT, UPS, DHL for urgently order
7. Customized part labels is acceptable
8. Delivery Merchandise in time
9. Unobstructed communion

With the principle of "Good quality, best services, reasonable prices", we sincerely look forward to establishing stable, long-term and strategically cooperative partnerships with old and new customers from all over the world for our bright future, mutual cooperation. Let us promote each other and create a new and happy tomorrow hand in hand.
Welcome to contact us to know more! We believe we will be your best partner and choice.


4. WSG The production process of bucket teeth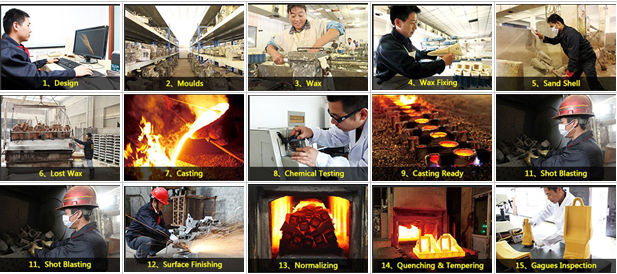 Chemical Composition & Mechanical Properties

No

Material No

Product

Impact Toughness (ak/JC m2)

Hardness HRC

Tensile Strength

Elongation

Working Condition

1

1#

Adapter,side cutter, protect panel etc.

>= 15

40~46

>= 1300

>= 4

Normal temperature

2

2#

Teeth/Loader teeth

>= 13

48~52

>= 1500

>= 4

3

3#

Adapter(>40tons machine) High Quality

>= 20

40~46

>= 1350

>= 5

4

5#

Teeth (>20 tons machine) high quality

15~25

50-54

>=1550

>= 5

1.WAX INJECTION: JCB bucket teeth Wax design of the desired castings are produced by injection molding.These designs are called patterns.
2.ASSEMBLY: The patterns are attached to a central wax stick,called a sprue,to form a casting cluster or assembly.
3.SHELL BUILDING: The shell is built by immersing the assembly in a liquid ceramic slurry and then into a bed of extremely fine sand.Up to eight layers may be applied in this manner.
4.DEMAX: Once the ceramic is dry,the wax is melted out,creating a negative impression of the assembly within the shell.
5.CONVENTIONAL CASTING: In the conventional process,the shell is filled with molten metal by gravity pouring.As the metal cools, the parts and gates,spure and pouring cup become one solid casting.
6.KNOCKOUT: When the metal has cooled and solidified,the ceramic shell is broken off by vibration or knock-out machine.
7.CUT OFF: The parts are cut away from the central spure using a high speed friction saw.
8.CLEANING AND GRINDING: When the fomred casting parts are finished, they will be cleaned by hand work totally.After that, all the parts will be put in to the grinding machine for spot blasting. After these operations, the metal castings becomes identical to the original wax patterns.
9.HEATTREATMENT: Once the parts for Jcb bucket teeth are finished by cleaning, they will be put in to heattreatment machine , in order to get a good harness and anti-wearness,as well as good impact performance.
10.PAINTING: Sprat painting method is used to paint the parts with different colors. Then they will be given special time for dry, so that they can be kept as shining and smooth.
11.PACKAGE: Man-made wooden carton is used for package,which is no need for fumigation.
12.SHIPPMENT: When all these work is done, finished products for Jcb bucket teeth is ready to ship to every cornor of the world.

6.Authority certification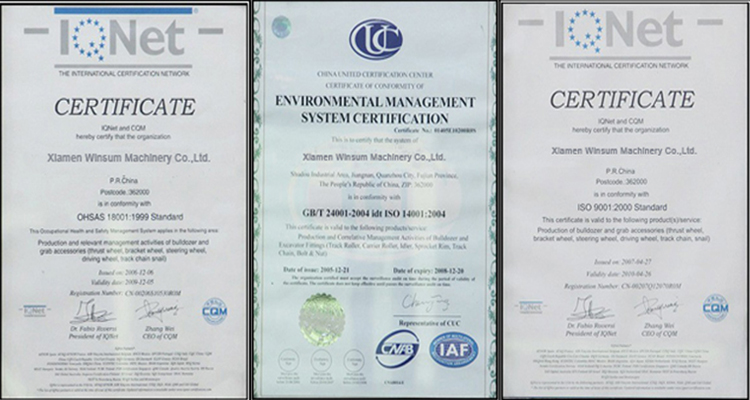 7. There are more model for bucket tooth as follow for you reference:
Model
Part Number
Model
Part Number
Model
Part Number
Model
20X-70-14160
PC60
6I6602
J600
8J2936
SK230LR
230 SIDE CUTTER
20X-70-23161
PC100
4T4702
J700
5K8959
18S
For HITACHI55
202-70-12130
PC120
8802
6Y0649
J350
22S
For HITACHI70
205-70-19570B
PC200
1U3302SYL
J300
1U1858 1U1859
25S
PC60
F01A205-70-19570C
1U3352SYL
J350
1U1878 1U1879
30S
PC100
205-70-19570HD
7T3402SYL
J400
1U1888 1U1889
J350
35S
PC200
207-70-14151-1
PC300
9W8452SYL
J460
6200064
40S
PC300 For HITACHI240
207-70-14151-201
9W8459
J460
9F5124
45S
207-70-14151HD
PC200
9W8559
J550
9J6586
25R12
208-70-14152
PC400
9N4252
J250
6Y5230/2D5572
25R15
208-70-14152HD
9N4302
J300
4J8665
27
208-70-14270
9N4352
J350
4T6695
35
209-70-54210
PC600、650、800
8E4402
J400
4T6699
35T
21N-70-14290
PC1000 PC1250
9N4452
J460
116-7460
230SP
205-70-19570RC
PC200
9N4552
J550
116-7461
230ST
205-70-19570RC-2
9J4309
J300
116-7462
X156
205-70-19570RC-3
9N4303
114-0464
X160
207-70-14151RC
PC300
4T2353
J350
114-0465
X290
207-70-14151RC-1
PC300
9N4253
J250
114-0466
X400
208-70-14152RC
PC400
9N4353
J350
8E7300
X370
208-70-14270RC
9W1453
J450
855-25
X310
209-70-54210RC
PC600、650、800
9N4453
J460
6Y0309
D4 955
X410
208-70-14152TL
PC400
6Y2553
J550
6Y0359
D5 D6 D7
X500
207-70-14151TL
PC300
4T4703
J700
9W2451
D7 D8
156-50
209-70-19570
PC200
4T2303RP
J300
9W2452
D8 D9 D8K
X156FL
207-70-14151
PC300
9W1453RP
J460
4T4501
R500
X156XFL
208-70-14152
PC400
1U3302P
J300
4T4502
R500
940X370
423-847-1140
WA500
1U3352P
J350
4T5501
D8K D9 D8L
940X400
426-847-1110
WA500 WA600
7T3402P
J400
4T5502
D8K D9 D8L
14527863
140
20X-70-14151(PC60)
PC60
9W8452P
J460
E315
E315 SIDE CUTTER
11530544
210
20X-70-12140(B100)
PC100
9W8552P
J550
096-4747-4748
E320B SIDE CUTTER
1171-00041
240
20X-70-14151(B100)
1U3302TL/9W8309
J300
2322147 2322148
SIDE CUTTER
1171-01910
290
202-70-12140
PC120
7T3402TL
J400
7Y0359 7Y0358
E330 SIDE CUTTER
T55GP
360
205-939-7120-F02
PC200
9W8452TL/7T8459
J460
112-2489
SIDE CUTTER
E460
460
205-939-7120(3CM)
9W8552TL/9W6559
J550
GET-1
VO360RC
360
205-939-7120(3.5CM)
6I6602TL/107-8609
J600
GET-2
VO460RC
460
205-939-7120(4.0CM)
1U3202WTL/135-8208
J200
220-9089(M-1)
TOOTH
1171-01620
210
205-939-7120(4.5CM)
1U3252WTL/135-8258
J250
8J2936
TOOTH
1171-01900
290
205-939-7120(2211)
1U3302WTL/135-9308
J300
220-9089
TOOTH
VO360 5.2
360
939-5120(B300 3.5CM)
PC300
1U3352WTL
J350
220-9093
TOOTH
V0360 6.2
360
939-5120(B300 4.0CM)
7T3402WTL
J400
18S
DH55
E460 5.5
460
939-5120(4.0CM)
1U3252RC
J250
2713Y1221
130
E460 6.2
460
939-5120(4.5CM)
PC300
1U3302RC
J300
2713Y1217
220
1171-00171
210 SIDE CUTTER
939-5120(5.0CM)
1U3352RC
J350
DH220(2713-9041)
220
H290 LR
290 SIDE CUTTER
939-5120(5.5CM)
7T3402RC
J400
2713Y1219
280
VO460
460 SIDE CUTTER
208-939-3120(4.5CM)
PC400 PC450
7T3452RC
J450
DH280(2713-9038)
280
19587B
THREE BOLT BOARD
208-939-3120(5.0CM)